Education, Fun, Creativity
Art for all ages…
The Little Steps Workshop is a program using art as a medium through which to experience embrace and expand creative potential. Here at The Little Steps Workshop our aim whilst having immense fun, is to highlight, support and affirm that which is unique in all of us, in art and also in culture.
These workshops were developed to encourage students to trust in their own creative choices as well as to develop an awareness of and sensitivity towards cultural differences in others. The workshops are a celebration of those differences whilst also underlining that which is universal between us, through simple mediums such as dance and song, or the use of color. They have been taught in school classrooms, libraries, parties and private functions throughout London, Manhattan and New Jersey to people of all ages.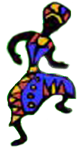 Parties
Corporate Events
Museum Workshops
Libraries
Festivals
Cultural Events
Drama Workshops
Scout Groups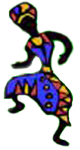 "Ivy… was adept at tailoring each program to its target audience and drew a sizable crowd for both sessions. Attendees praised her easy-to-follow directions for making the masks as well as the historical background she provides on the tradition of African mask making…"
"I attended the workshop primarily for the opportunity to make a mask, but left with so much more than that! It was a lovely evening, and I highly recommend this workshop."
"The children had a lot of fun and enjoyed bringing home something that they had made themselves.  Ivy's presentation was excellent, as she gave the children an idea of the history behind African masks.  Both programs were well-attended, as well. We are planning to have Ivy back again this summer for both the African mask program, as well as an African dance program.  We always look forward to having her here".
"Ivy Omere has delivered 2 excellent programs in African mask making in clay at the Children's Room of the Free Public Library of Hasbrouck Heights. She engaged the children in very creative, exciting craft sessions.  She maintained excellent control over the large groups while still being friendly and approachable.  The children responded well, and made beautiful masks.  Her knowledge and enthusiasm for her work is evident.  We would definitely have her at our library again".